Rule of King's Valley Labyrinth
Board and Pieces:
King's Valley Labyrinth is played on a 7x7 tikes board which center square is the "King's Valley". 4 pillar space are marked.
Each player has a king piece and 6 soldier pieces.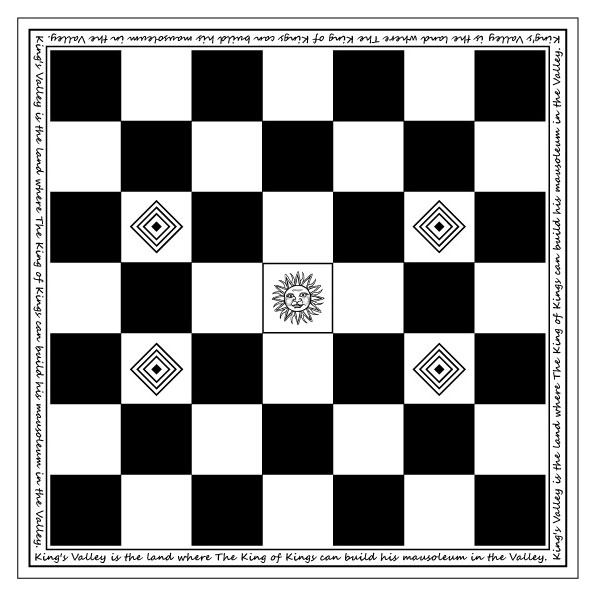 Starting Position:
Each player settle 7 pieces on the first row on each side.
King piece is settled on the center tile of the front line and 6 soldier pieces are on the other tiles.
4 pillar stones are settled on the marks.
Object:
To move his/her king piece to the central "King's Valley" tile.
Number of Players: 2
Rules:
Game-play consists of players taking turns moving one of their pieces onto a vacant square of the board. Players on their turns must move one of their 7 pieces: either one of the four Soldiers or the King.
All pieces move in the same way: horizontally, vertically, or diagonally.
Pieces continue their movement until, and only until, they reach a vacant square adjacent to (or alongside) either the edge of the board or another piece or pillar stone, at which point the movement ends.
Stopping in the middle of a gslide,h as is done in chess, is not allowed.
The only piece the players may stop at the center square is the King. But again, the player may not do so by stopping the King's movement gmid-slide.h

The player going first must, for the first move of the game, move a Soldier.
Passing a turn is illegal. No one can pass the turn must move anyone of pieces.
Win the game:
Player who moves his/her king piece to the central "King's Valley" tile.
If King is fixed on the square he can't move at next turn. game is lose. There is scarcely occurred when both skillful players continue long play.
---